Skip to Content
Smart Home Automation in Atlanta, GA
How many times have you left your house and forgot to turn off all your lights or lock all your doors? Thanks to modern technology, you can now enhance your lifestyle and have complete control of your home with just the touch of a button. If interested, Tailored AV LLC offers smart home automation services to our customers in the Roswell and Atlanta areas. Having a smart home makes life easier. With an app installed on your smartphone or tablet, you can conveniently check the status of any of your appliances or devices and have remote control over them no matter where you are.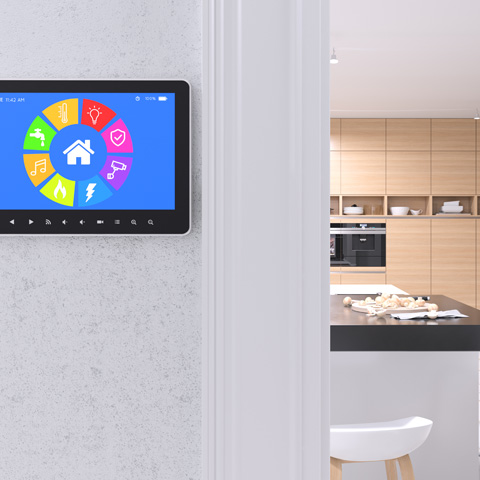 The Benefits of Smart Home Automation
Investing in smart home automation in the Atlanta area is the smart thing to do. Here are a few of the many benefits of connecting all of your home's technology over your Wi-Fi network:
Integrated Control – Having all of your home's devices linked together with smart home automation allows you to keep track of everything in one convenient place.
Lower Energy Consumption – By having your shades or blinds automatically open when you wake and close during certain hours while you're away, you can conserve energy. When combined with automatic timers for your lights and thermostat, you'll quickly see less energy consumption and lower monthly heating and cooling bills thanks to customized climate control.
Better Safety – Smart home automation allows you to feel safer at home and when you're away. Imagine being able to receive notifications when your smoke or CO2 detector notices a change or when your surveillance cameras detect unauthorized persons trying to enter your property. Many locks can also be locked and unlocked easily using your smartphone or tablet.
Let Us Simplify Your Life with a Consultation
Because Tailored AV LLC recognizes that our Atlanta-area customers have different control needs, we fully customize our smart home automation services. Contact us today to get a smart home automation design tailored to your exact needs. During your free initial consultation, we'll go over what aspects of your home you'd like to be in more control of, as well as what specific automation features are of the most importance to you. We can help make your home work for you, not against you.
Enhance Your Lifestyle
with a Tailored Audio / Video System