Skip to Content
Residential Custom Security Solutions in Atlanta, GA
Safety is a huge concern for many home and business owners. Tailored AV LLC offers access control solutions in Atlanta that will maximize security for your family or employees. We'll work with you to design the right system for your needs that will allow you to manage designated areas of your home or business with accuracy and speed. Access control systems ensure your property is protected with the most efficient security system available.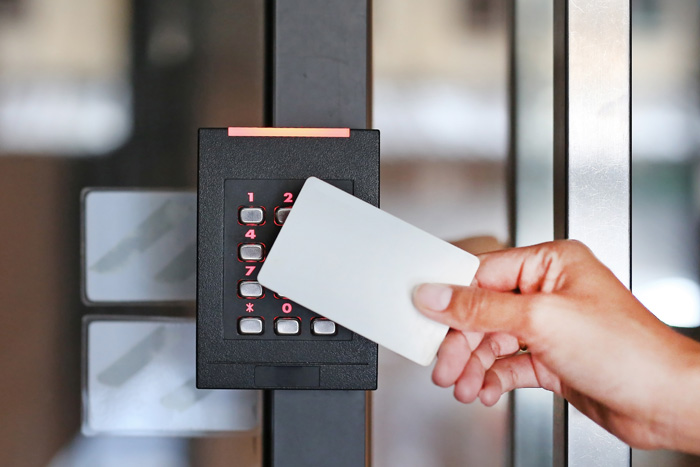 Be in Control of Your Security System
Through the use of personalized security codes entered on a keypad or an advanced card or biometric reader, access control systems put you in control of who has access to your building. Whether used on exterior security gates or interior doors, they seamlessly integrate with your other security systems already in place (surveillance cameras, burglar alarms, home monitoring systems, etc.) to deter unwanted persons from entering your property.
How Could I Use Access Control in My Home or Business?
There are many ways in which you can use our advanced access control systems to benefit your Atlanta-area home or business, including:
Interior Access Systems
Limit access to specific areas of your building (by schedule, by the level of staff, or on demand)
Lock all exterior doors and provide access to each specific family member or employee
Keep track of your family members or employees to see what areas they're in
Secure hallways and large, open spaces with interior gates
Exterior Access Systems
Ensure better security with an electronically-monitored security gate
Allow or restrict access for vehicles at certain times
By using integrated surveillance cameras, record everyone who's granted access
Reduce the need for around-the-clock hourly or salaried gate attendants
Keep track of access granted to any of your outdoor common areas
Looking to Upgrade or Install an Access Control System?
If you're looking to upgrade or install an access control system for your Atlanta-area home or business, Tailored AV LLC would love to assist you throughout the process. Contact us to schedule an appointment for a free initial consultation to help us properly assess your needs. We customize our access control systems to fit your exact security requirements and budget. Call us today to get started!
Enhance Your Lifestyle
with a Tailored Audio / Video System