Skip to Content
Merging Your Lifestyle with Dedicated Home Theater and Media Rooms
While it used to be only celebrities who could afford private home theaters and media rooms, advances in digital technology have made them more affordable for families. Tailored AV LLC offers a wide range of custom audio/visual services, including home theater solutions to bring function and value to any home. Experiencing your favorite movies, sports, and TV programs with a home theater system installed in your Atlanta home can help you rekindle your love for the cinema in ways you've never imagined. All you have to do is sit back and enjoy the realistic surround-sound and crystal-clear HD video.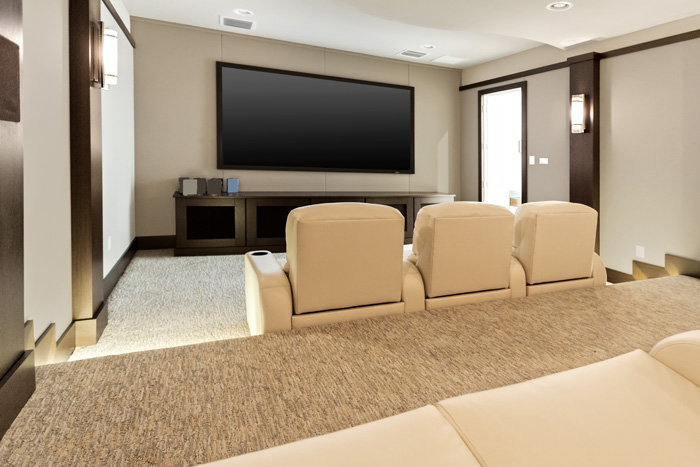 Complete Home Theater System Installation Services in Atlanta, GA
Swing along New York City's skyscrapers with Spidey or root for the Atlanta Falcons as if you were right there on the sidelines! Let us bring the excitement of the cinema or the sports arena to the comfort of your own home with our custom design and installation services. Our systems are so sophisticated that you'll feel like you're fully immersed into whatever you're watching or playing. You can rely on our expertise to help you select the right equipment from the industry's leading brands. Guiding you every step of the way, our home theater installation services include:
Free initial design consultation
TV/projection screen mounting
System installation and setup
Wiring and cabling
Audio and video equipment
Rack building and design
Remote control programming
Let Us Change How You Watch TV and Listen to Music Forever
From mounting a projector at the proper distance to remote control setup, installing a new home theater system on your own can be a bit complicated. Take the aggravation out of the process and rely on Tailored AV LLC for professional, prompt service and competitive pricing on every home theater installation we provide in the Roswell and Atlanta areas.
We have the knowledge and experience to ensure the best possible system for you with a convenient arrangement, safe setup, and optimal acoustics and lighting. Let us change the way you watch TV and listen to music forever by contacting us to schedule your free initial design consultation. Together, we can help you build the home theater system of your dreams!
Enhance Your Lifestyle
with a Tailored Audio / Video System